There are a lot of similarities and some important differences between wooden chairs and faux wood chairs. It's likely you already know some information about wooden furniture, but what is faux wood?
Holsag faux wood chairs have an aluminum frame that is powder coated. Then, a grain transfer is applied to the frame to produce the look of a finished wood grain.
Obviously, Holsag solid wooden chairs are made using wood versus aluminum, but what else is different? We'll break it down for you here so you will know which type of chair will be the best fit for you.
Download an "at a glance comparison chart" comparing wooden chairs and faux wood chairs.
There are benefits to both types of chair frames. Wooden chairs can bring incredible warmth and unique style into a room and the customization options are limitless. Faux wood chairs are durable, lightweight, and the powder-coated finish guarantees a strong surface that is resistant to dents and scratches.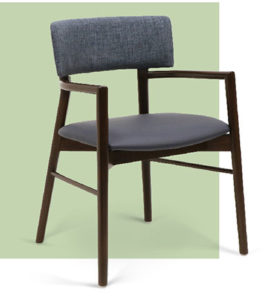 Facts about Wooden Chair Frames
Holsag wooden chairs are made using strong European Beech hardwood. They have a durable lacquer finish that provides an incredible return on investment and long product life.
Wooden chairs can accept nearly endless color and finish options, and they are easy to customize. The wood grain and intricate carving produce a product that features a fine design and attention to detail.
Wood is also warmer to the touch, which can be important for senior living environments.
Things to consider before purchasing wooden chairs
Wooden chairs are not ideal for quick room turnover and storage. If you're looking for a lightweight, high-density stacking chair, with a small storage footprint, it's likely you want steel or aluminum chairs versus wooden chairs. Some Holsag wooden chairs nest up to 4 chairs high, but not all chairs have a design that allows stacking.
Before purchasing wooden chairs, it's important to research the manufacturing plant to understand how the chairs are built. Ask questions about the construction methods because a commercial environment requires wooden chairs with robust joints, such as tenon and mortise, that are made using a high-quality production process that includes gluing the joints into the frame. This will keep the chairs from becoming unstable.
You should know that wood is softer than steel, so make sure you ask about the type of lacquer that is used on the frame. Catalyzed lacquer will hold the color better and reduce the appearance of scratches and dents.
Also, ask about the staining process. Low-quality wooden chairs can have color variants because of the grain. Chairs made using a hand-rubbed staining process will ensure the color is spread evenly throughout the frame including in the joints, corners, and legs.
Some manufacturers of wooden furniture have a huge environmental impact. Make sure you choose a manufacturer that only uses wood from sustainable forests—meaning there are regulations in place to ensure that the natural growth out-measures the depletion.
About Holsag Wooden Chairs
Holsag solid wood chairs are manufactured in North America and made exclusively from 100% European Beech hardwood sourced from sustainable forests in Europe. The mortise and tenon joints are glued, pinned, and screwed into place for a sturdy structure.
All chairs are hand-sanded, and the stains are hand-wiped, for even color distribution. The stain is then covered with a durable, catalyzed lacquer that resists cracking and chipping.
Nearly limitless customization options are available.
Learn more about how to choose the best wooden chair to fit your needs.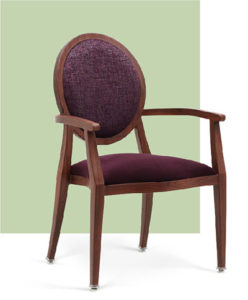 Facts About Faux Wood Chair Frames
Faux Wood chairs are incredibly durable and difficult to dent. The frames are easy to clean and maintain and not affected by humidity or dry climates. The strong powder-coated finish is scratch resistant. They can be lightweight and easy to stack, depending on the design.
Faux wood frames are made from aluminum and cold to the touch, which means they are not ideal for some senior living environments.
Things to consider before purchasing faux wood chairs
Faux wood frames are imported from overseas, which can result in a longer lead time. There is a limit to finish customization options. Faux wood chairs often have more limited warranties, and it's difficult to address damages. The frames are also more difficult to touch up if scratched down to the metal, and they cannot be refinished.
About Holsag Faux Wood Chairs
Holsag faux wood frame are crafted from strong, lightweight aluminum, which makes them perfect for heavy use in hospitality and senior living environments. The strong welded construction keeps joints from loosening without requiring maintenance. The chairs stack up to four chairs high making them easier to move, store, and stack.
As you can see, there are many benefits to both wooden chairs and faux wood chairs. Deciding which type of chair is best for you depends on your budget, your required lead times, your available storage space, and the features and benefits are the highest priority.
Are you ready to get a quote for faux wood or wooden chairs built by Holsag? Get a quote today.